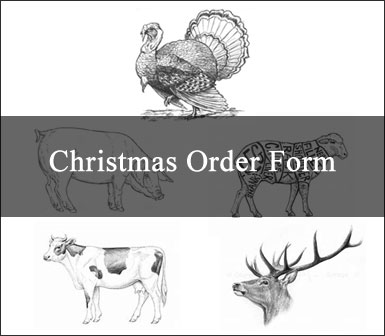 What kind of Butchers are we?
In Spring 2019, a new Broomfield's butchery was built on site. Our Great-grandfather started his Butchery career as the order boy aged 11, he then grew to own and run his own butchery for all his life. Fine, fresh food is a large part of our family history and it seemed a natural fit to re-introduce these elements into the family farm shop. The butchery and deli are nestled in amongst local fresh fruit and veg, allowing the local meat and pastries to be paired with local produce. This has meant an extension to and a bolstering of; excellent food.
An uncompromising approach means that when it comes to quality, we unashamedly extract the very best meat from a very impressive pool of Worcestershire farmers. We have many long-standing relationships with local independent farmers who could supply great quality, unique produce with a passion for sustaining rare breeds. As we have grown, we have worked to build a network of like-minded farmers to help us supply our butchery and deli, many of whom are old friends of the Broomfield's family. Each farmer is paid fairly when it comes to buying local products. After all, we treat others how we would like to be treated, being farmers ourselves.
Our Aim
Our main ambition is to supply sustainable, locally reared, often rare-breed meat in the butchery. We want to introduce unusual and exciting things to people's plates, as well as easily demonstrate a good knowledge of meat and understanding of its source and journey to our counters, where our team puts the finishing touches to every Sunday roast to summer-time picnic.

Made by Broomfield's
In the butchery, we push to provide things most have never seen before, but also showcase local delicious products. Our Wild Garlic sausages are made using locally foraged wild garlic found down by the River Severn, running adjacent to the farm. Our beetroot sausages were made using locally grown beetroot grown over the other. Our burgers are handmade by our skilled team, also using mixes of local salts and herbs. We hang all our beef in-house to a minimum of 28 days. An assortment of primals with a good coverage of fat are aged for longer, producing cuts to cater for different dishes and tastes.